Would you like to be highlighted or do you know someone who deserves to be

BON

? Contact us at
ourwordsofwisdom@gmail.com
and let us know.
Today's Blogger of Note is
Take Me The Way I Am
.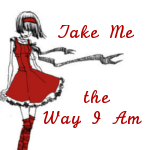 Lora says she is forever on a journey and learning to live in the moment. An independent lass, even when facing difficult times, her attitude is inspiring because of her faith in God and family. Reading her blog makes you know all will be okay for her.
Happy reading,
Sandy
&
Pam
Be sure to "join the conversation" by leaving a comment letting us know you've stopped by. Then visit today's
BON
and join the conversation on his/her blog as well.
Please be sure to comment on the

BON's

linked posts, as well as his/her welcome post.


Want to know more about WOW? Click
here
.